Dog Walking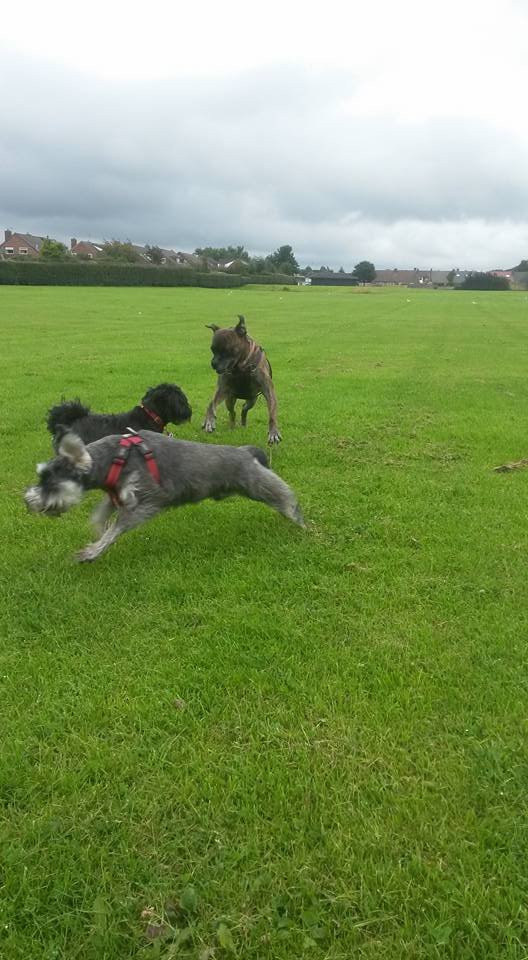 4 main walks a day - Monday to Friday - 10 am, 12 midday, 2pm and 4pm.
All socialized dogs welcome.
main walks last 1 hr costing £8 per dog (for 2 dogs in the same family £12); on these walks a maximum of 3 dogs are walked. Dogs are walked in a variety of local places.
Other times apart from the 4 main walks can be arranged - please contact for availability.
Individual dog walks can also be arranged; please ask for details.

Puppy Visits

Usually 2 visits a day, lasting around 30 minutes each,in the morning and afternoon-but these can be changed to suit you.
Time will be spent, tidying up any mess and playing/interacting with them.
Two puppy walks rather than puppy visits (if they have been inoculated).
Pups receive two visits/walks a day for £10.
Pet Home Visits
£6 for a one hour visit (up to two pets). This includes feeding, changing littler tray, letting out, interacting and playing with (if appropriate to that pet).
£4 for additional pets. Please enquire, as all price is made on an individual basis..

Pet Sitting Service
This service can be tailor made to your requirements, where we come and look after your pet or pets, whilst you are out.
The price depends on the length of time, distance from our location, and the number of pets. The average price for an evening is £12, but if interested please get in contact, as we work on an individual basis.
If there is anything that you need that is not covered here, please get in contact, as we may be able to help, as we try to cater for all needs. However, we do not cover dog boarding, as we do not have a license.

If you would like to know more please ring, leave an enquiry on this website or on the Facebook page, and we will get back to you asap.
After you have expressed an interest, we would like to arrange a free appointment, to get to know your dog(s), fill in a service agreement form, and for you to see us, and ask any questions you have.